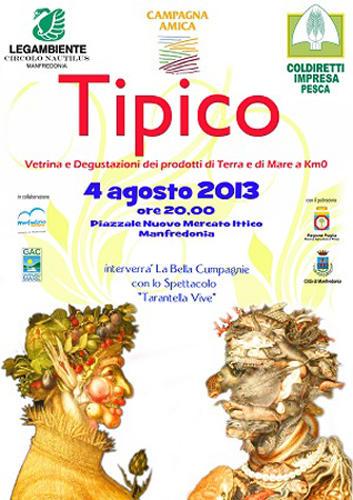 On Sunday 4 August 2013, beginning at 20 Manfredonia in the event "TYPICAL" - Showcase and tasting of the products of the Earth and Sea km0.
The event is organized by Campagna Amica Foggia, Coldiretti Enterprise Fishing and Legambiente Nautilus Circle of Manfredonia with the Patronage of the 'Department of Food Resources of the Puglia Region and the town of Manfredonia and with the collaboration of Manfredonia Gargano Sea Tourism and GAC.
"Sarà questa una importante occasione per valorizzare le produzioni dei nostri territori anche nei confronti dei numerosi turisti che affollano in questi giorni le nostre spiagge" afferma il Presidente di Coldiretti Salcuni "e molto interessante – una assoluta novità – sarà questo connnubio fra i prodotti della terra ed i prodotti del nostro mare, marriage guaranteed by the collaboration of the fisheries sector of the circle with Coldiretti Nautilus Legambiente. Coldiretti married the battle to promote food miles to zero, whether we speak of the products of our agriculture and whether we speak of the products of our fisheries. About the latter - continued Salcuni - we are on the eve of the biological rest period which begins on 5 August and, then, what better opportunity to appreciate the genuine resources of the sea before the forced stop. Resources consist mainly from the less valuable fish, poorest, that we almost forgot to put on our tables, but that, instead, is a rich source of protein and other substances useful to our body, costs absolutely accessible to all.
Moreover - concludes Salcuni - as well as for the products of the earth, consume fish of our seas helps environmental sustainability, helps to preserve our territories, generates local economy and protecting the health of consumers ".
TYPICAL The event will take place in Manfredonia in the square in front of the new Fish Market and will see the participation of over numerous farms and fisheries, the presence of renowned chefs prepare dishes instantly km0.
The evening will be accompanied by folk music group "The Beautiful Cumpagnie" of Michele Mangano propose that the show called "Tarantella Lives!".
Source: http://www.ondaradio.info
Related Articles: